Pottery mark question - Vase With Crown, RC, Bavaria
by Sandy
(Denver, CO)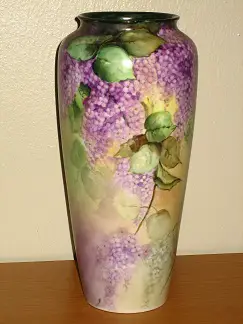 Pottery mark question - Vase With Crown, RC, Bavaria
Pottery mark question - Vase With Crown, RC, Bavaria:- I received this vase from my Great Grandmother around 1973 when I was eight years old. I don't remember her sharing any history of the vase, she just pulled it off of a shelf and said I want you to have this.


I would love to know more about this piece.
Thanks on advance for solving a long standing family history.
Thanks,
Sandy
========================================
Please contribute to this thread by writing in the comments section below – just scroll down...
HOW I MADE MONEY FROM BITS & BOBS OF OLD CHINA

.....more
Pottery mark question - Vase With Crown, RC, Bavaria
Hi Sandy
Many thanks for submitting and telling us a lovely story. We like these types of details on this website, you got the idea.
I am glad you found this site when you sat down to search for your answer to such a long standing family mystery!
Well, you came to right place this is what this website is all about - a public record for all to benefit from and solve their china mysteries quickly.
So thanks for your great clear photos and here's the answer you were looking for.
And by the way, it is good news for you - your great grandmother knew what she was giving.
This company is one of my
all time favourite companies - Philip Rosenthal & Co of Kronach, Bavaria. They used this particular mark from the late 19th century until the 1930's
When I was young, I remember working in fashion retailing in London in the upper-echelon district of Knightsbridge (just opposite Harrods, if you know that shop) - my work place was right next door to the Rosenthal shop. Although I couldn't afford a bean, I couldn't resist a regular visit into the design-rich ambience of the Rosenthal ceramic gallery. It was like an art gallery, and I loved it. I am sure those early forays into the world of Rosenthal which turned me onto a career in ceramics later on in life.
Your mark is known as the 'Versailles mark'
You can read up more on the history of Rosenthal by searching in my in house search engine on the top right of the page. There is the main listing, but several other thread which give more detailed information about Rosenthal.
Knowledgeable contributors are welcome to help further with this one if they have more info (check out the comments section below for replies).
Peter (admin)
p.s. The following page is a 'must see' if you are researching fine china - for value and identification:-
Researching the identity and value of antique and vintage fine china
.
Please post comments below which you think might be helpful……