Red Dragon Vase - Pottery Mark Backstamp with EL UNICO
by Wendy Dworken
(Boca Raton,FL)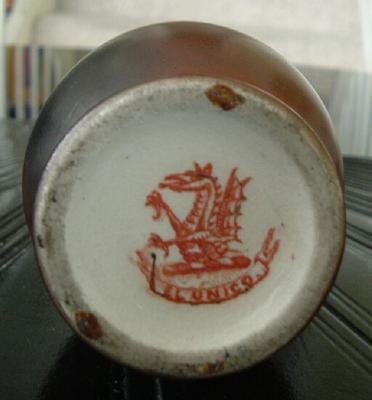 Red Dragon Vase - Pottery Mark Backstamp with EL UNICO
Red Dragon Vase - Pottery Mark Backstamp with EL UNICO:- I found this vase in a consignment shop recently but have tried for days to identify the backstamp with no luck. Please see if you can possibly know the bottom mark.


Thank you Peter,
Wendy Dworken
=============================================
Reply by Peter (admin)
to: Red Dragon Vase - Pottery Mark Backstamp with EL UNICO
Hello Wendy
HOLD YOUR HORSES!!
Just a hunch, I have nothing really to base this on, but I really think you might have something exciting here.
Why am I getting excited?
Well strictly speaking I shouldn't be because when I did my usual looking up this mark in my books, I found nothing - not a trace of anything in Kovels or Millers or Goddens. I looked at the Kovels 1650 to 1850 encyclopedia too. Also nothing.
Then I looked online and there was nothing apparently mentioning EL UNICO or a dragon or griffin mark.
I searched some more and eventually came across an obscure listing on an auctioneer's site from 2007.
The auctioneer was Burke's Antiques, the auction was 434-251-5769, Auction Date Sep 07 at the REMINGTON LIONS CLUB BUILDING, REMINGTON, VIRGINIA.
This was obviously some sort of estate sale, selling a very long list of very valuable antiques such as:-
19th Century Chippendale high chest on bracket foot
Fabulous heavily carved & inlaid mahogany bedroom suite featuring exquisite king size poster bed, 2 piece chest on chest w/ crest and triple mirror dresser
Weller Jardinières
etc etc
Also listed was this:-
21 1/2 in Pedestal marked EL Unico with dragon mark.
I suggest that this item was likely in keeping with the rest of the items - i.e. old and valuable.
I would love to know the maker of this item myself. I think it calls for specialist knowledge though. 'El Unico' translates as 'the unique one'. Very mysterious.
Good luck with your search and please post here what you find.
Peter (admin)
p.s. The following page is a 'must see' if you are researching fine china - for value and identification:-
Researching the identity and value of antique and vintage fine china
.