Red Stamped Seal Pottery mark Chinese or Japanese ?
by Donna Freeman
(Malvern,Ar. USA)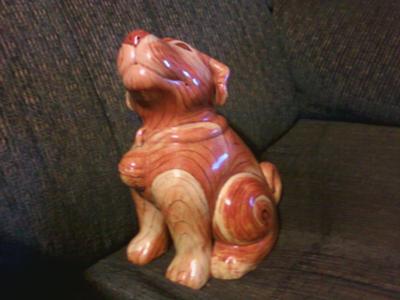 Red Stamped Seal Pottery mark Chinese or Japanese ?
Irecently bought this beautiful dog statue in a resell shop in Hot Springs,Ar. that has a woodlook design with small holes in its nose, mouth & the bell on its collar I don't know if it is ceramic or porceline it does not have an opening in the bottom just the small holes it has a stamped mark on the bottom but I don't know if it is Chinese or Japanese, He was sitting in the floor & everytime I walked by it he was looking up at me smiling so I had to bring him home. I would love to know where he came from, his age ,who made him or anything about him. Please help he is just so cute.Who every made him should be very proud of their work.


Thank you
Donna
Please contribute to this thread by writing in the comments section below – just scroll down...
HOW I MADE MONEY FROM BITS & BOBS OF OLD CHINA

.....more
The forum Help Elf says:-
Donna
What a cheeky little fellow! I know why he stares at you so much - he just wants attention!
Nice and unusual wood grained decoration effect.
This red ink seal stamp denotes it is made in China around 1950 - 1975 and it is a copy of a Qing Qianlong Dynasty seal mark from the 18th Century.
Some Japanese makers also impersonated this style of Chinese marking - and to add even more to this complicated area some Chinese manufacturers used blanks bought in from Japan. With this type of item from this time period there is a cross-over between the two countries for this type of souvenir made-for-export item.
Nice but decorative value only.
For general free advice on how to research your collection, Peter wrote this page:
value of antiques
.
H.E.