Royal Vale 'Cottage' Teaset - ? value
by Mary King
(UK)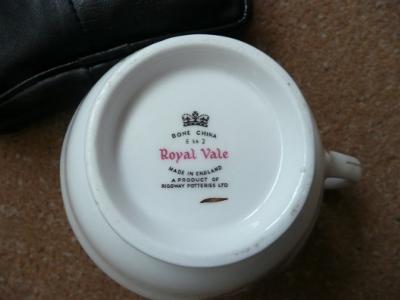 Royal Vale 'Cottage' Teaset - ? value
Royal Vale 'Cottage' Teaset - ? value:- Hello, I have just been given a complete Royal Vale 'Cottage' teaset to put into a carboot sale for Cancer Charities. My question is: Is it too good for a carboot & if so, where would you suggest selling it to make a better price?


Many thanks,
Mary
Please contribute to this thread by writing in the comments section below – just scroll down...
HOW I MADE MONEY FROM BITS & BOBS OF OLD CHINA

.....more
Royal Vale 'Cottage' Teaset - ? value
Dear Mary
Many thanks for submitting, and hope you are finding the site generally useful for research. You have a nice Royal Vale set c.1959. Although these bone china sets are considered Granny's old fashioned taste nowadays, there is a growing trend towards vintage, and I have seen these quality bone china tea sets described increasingly as 'shabby chic'.
To answer your question, if I had a nice set of Royal Vale tea cups & saucers like this, I would not take them to a car boot sale. Personally, I would sell them on ebay.
From what I could see, within the UK market, Royal Vale tea sets like yours fetch around the £30 GBP prices.
I also run a service where collections and items can be sent for valuation analysis by
professional appraisers
, but in this case I don't think you don't need this service.
However, when you get items donated and want to research their value yourself, be sure to go to my self-research tips pages
The Searching Secrets To Finding Your China Replacement and Values Online ….more
.
And for specific advice on how to 'save a search' on eBay (for pricing or finding your desired item) go here:
How to easily find replacements, prices and information on vintage and antique china online ..... more
Best regards
Peter (Admin)
www.figurines-sculpture.com
(This is Peter Holland's bigger site covering all aspects of fine china making)
www.figurinecollect.com
(These pages show Peter's new English made bone china figurine collection)