French Limoges and Sevres Marks

Sevres marks and Limoges queries are something we get far less of in terms of solving unknown markings here in the China Chat discussions of this website.  German porcelain marks and English pottery markings are way more common.

Therefore, with Sevres signatures especially, the thing to worry about is not identification so much as forgeries and fakes (more on this in a minute).
The reason that we have way less queries on French pottery marks here on this site is that in France, in the formative years of the ceramics industry it was State controlled, with Sevres being the center of operations and Limoges being the source of the raw materials. 
With France it's more about sorting out the fake Sevres marks and knowing the who's who of the Limoges based companies (see my A - Z of china makers elsewhere on this site)

Both Germany and England had much broader base of commercially based enterprises, with a bewildering myriad of backstamp marks to accompany their products.
Sevres Marks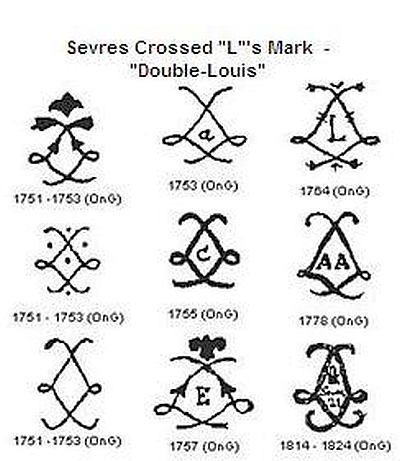 Sevres, having gained the royal license and a monopoly on production, meant their wares were clearly organized and marked from the early days - so less mystery for us to solve.

In France, by the time the monopoly license was relaxed, Limoges, the area rich in all the natural resources for porcelain making had the wherewithal to forge a significant industry - namely Limoges (not a company but a locality).

How Sevres Marks Differs From Meissen's

The great giants of European porcelain making  like Meissen and Sevres, both marked their wares clearly from the very beginning (1710). These European porcelain marks were characterized by a hand painted symbol or initials.

The difference being that the crossed swords of Meissen are taken from the coat of arms of Saxony, whilst the 'latinized' double 'L' pottery markings of Sevres were taken from their patron French King Louis XV.

These European hand-painted markings can unfortunately sometimes be more of a disadvantage than an advantage in identifying porcelain marks due to the fact that they are so easily copied.

Valuable Forgeries

However, remember this quirky fact - some of the forgeries and fakes, especially the older wares are highly prized collectibles in their own right and very valuable.

Look out particularly for the examples of Emile Samson's copies of Sevres, Worcester, Meissen and Chelsea, made in the 1800's.
There are also many newer French hard-paste reproductions of early soft-paste Sevres.

Similarly, in Dresden they are adept at making replicas of early Meissen - all signed with pottery markings made to look suspiciously similar to those of the true originals.
I saw a pair of wonderful Samson urns in Sevres style sell for around $900 USD recently.
When is a fake not a fake?  This is probably to do with the INTENT to deceive by the person selling.  A lie isn't a lie unless you know it's a lie.

Spotting Sevres Fakes Made Simple

Experts can spend hour after hour giving lengthy and somewhat complex explanations of the differences between fakes and the real thing, especially when it comes to the task of sorting an excellent Samson from a Sevres.

My method is simpler.  Anywhere you see a Sevres mark on eBay, any online selling retail outlet, a garage sale, a charity store, simply begin with the assumption it is not genuine Sevres. 
Simply, if you like it, buy it, but don't allow yourself to pay collectible prices for it - just what you pay for any non-Sevres item of that type.

Also, I have found that although I am not an expert, there is always something not quite right about either the mark, or the wares, or both.  Sniff hard enough and you will find a nasty aroma, is my motto.  Trouble is, a lot of real Sevres marks are so bad they actually look worse than the fakes.
Click to enlarge pictures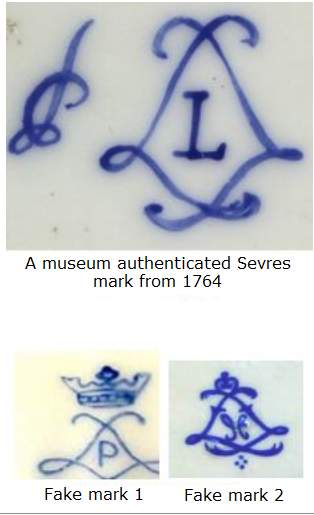 The above row of marks above are a series of real authenticated Sevres marks (which look worse than the fakes).  The moral of this story?  You have to look at the finer points of the item itself because the mark tells you jack.....
If you see something Sevres for sale, assume it's dodgy.  If you really want the item, get an expert to look at it (send photos to my online expert team for example).

Vion et Baury - A Target For Modern Fakers?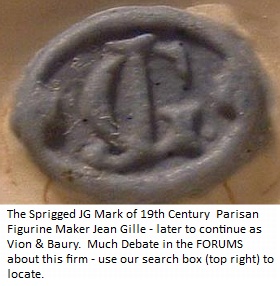 There was some independent making going on in and around Paris, and that is where the mystery and obscurity comes in (See the forum listings on Vion et Baury and Samson, for example - use the search box, top right of this page).

Search for your mystery pottery marks:


Further reading:
www.rubylane.com - identifying Sevres porcelain

Return from Sevres Marks to Pottery Mark Clues, alternatively return to the Homepage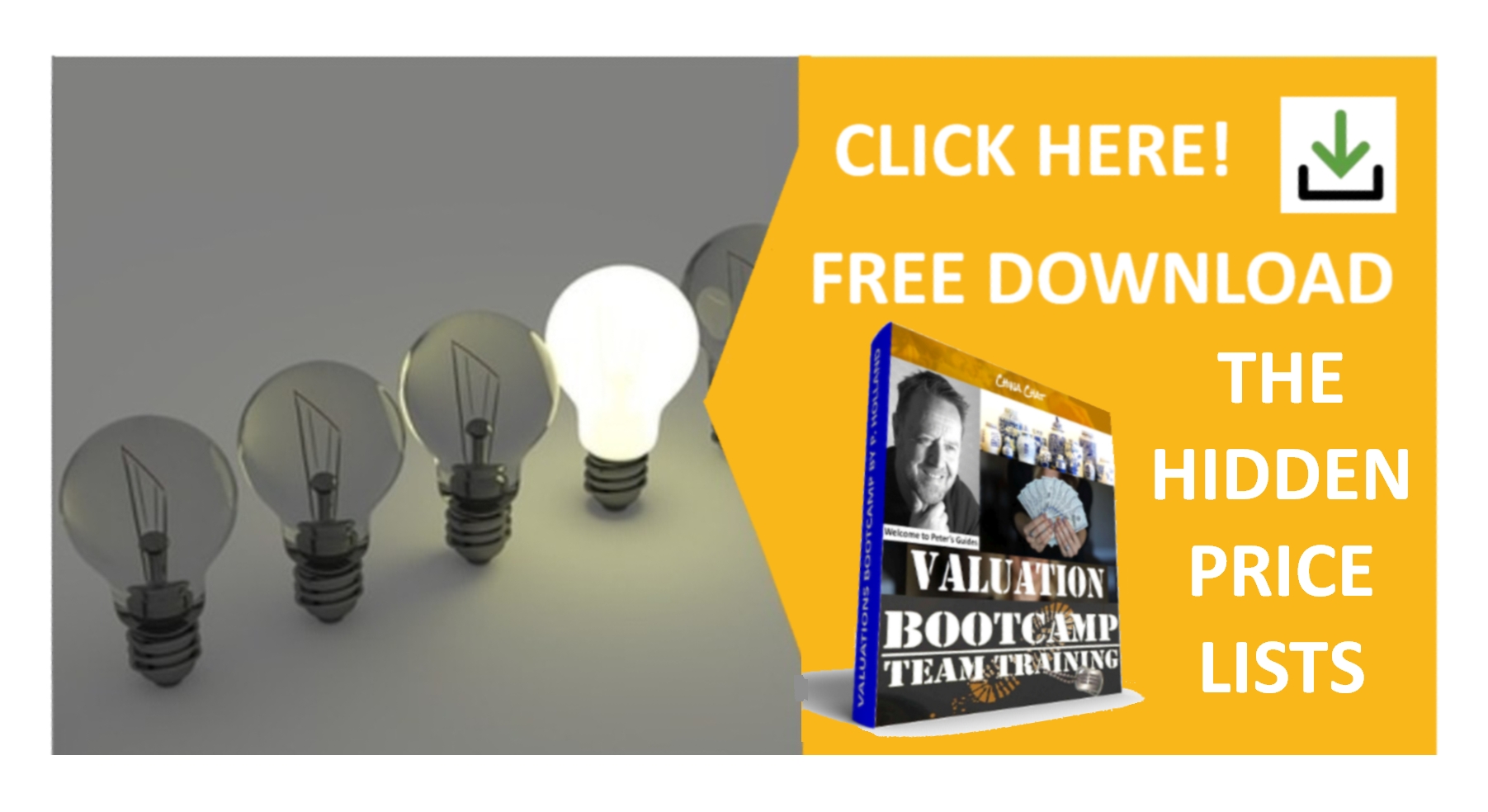 "Your guides are a blessing to us" Cindy Johnson