Square Red mark of Oriental Looking Letters
by Joan
(Indiana)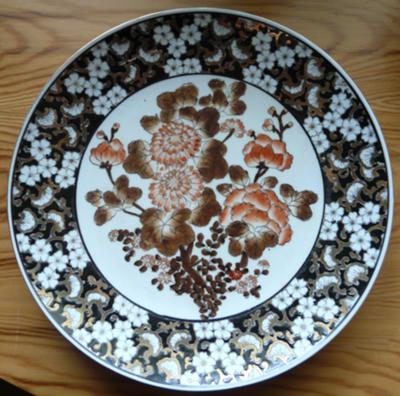 Square Red mark of Oriental Looking Letters
Square Red mark of Oriental Looking Letters:- I acquired this piece from an estate sale of an antique dealer that had been boxed up for 30+ years. There was a good mix of china, glassware, and other items from many ages. Most of it, I would guess, dated early to mid-twentieth century, with about 1/4 to 1/3 dating earlier.


It is a decorative plate, 10" in diameter. The design appears to be over-the-glaze with hand-painted coloring that accents what looks like a stamped base pattern. The black in the outer band appears to be a thicker lacquer paint. There is no crazing to the glaze, but the resting edge on the bottom has definitely seen some shelf wear. The hallmark is over-the-glaze.
The hallmark reminds me of some Japanese porcelain stamps; however, the characters do not fit the Japanese alphabet. The structure of the characters also remind me of Russian characters; however, not well enough to keep me pointed in that direction.
My guess is that this piece dates to somewhere in the 20th century; however, this is a wide guess.
Any information would be most appreciated.
Joan
=========================================
Please contribute to this thread by writing in the comments section below – just scroll down...
HOW I MADE MONEY FROM BITS & BOBS OF OLD CHINA

.....more
Square Red mark of Oriental Looking Letters
Hi Joan
OK, look out for the comments section below.
I am planning to write up a series of replies for this hot topic of red seal marks.
Peter (admin)
p.s. The following page is a 'must see' if you are researching fine china - for value and identification:-
Researching the identity and value of antique and vintage fine china
.
Please post comments below which you think might be helpful……