T letter and a fish Porcelain Marking
by Guido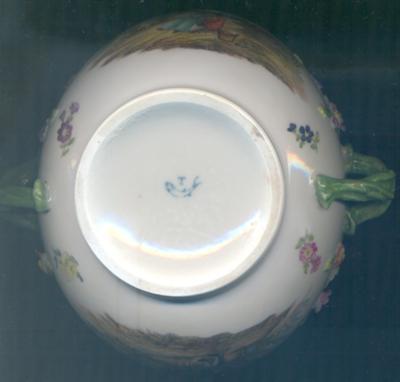 T letter and a fish Porcelain Marking
T letter and a fish Porcelain Marking:- Hi, recently I have purchased a bowl with cover of fine porcelain from a very serious seller. I am not able to identify the manufacture. The piece is marked with an arched fish and from a T (all in blue). Could you help me?


Thanks,
Guido
========================================
Please contribute to this thread by writing in the comments section below – just scroll down...
HOW I MADE MONEY FROM BITS & BOBS OF OLD CHINA

.....more
T letter and a fish Porcelain Marking
Hi Guido
I have seen a T above a curved fish device associated with the Carl Thieme factory of Potschappel (or Pottschapel), Saxony, East Germany. The one listed in my book is different in that it is a silhouette of a fish not a line drawing, and the T is bigger, but it is so similar as to be most definitely Carl Thieme.
Carl Thieme was establshed in 1782 and still has a website selling merchanidise to this day under the name http://www.dresdner-porzellan.com.
There are quite a few articles and queries on this site on Carl Thieme. To locate them, all you have to do is use one of the
search boxes
at the top of the main pages. Be sure to put in the keywords both of Carl Thieme and Pottschappel and Potschapel. Use both spellings.
Peter (admin)
p.s. The following page is a 'must see' if you are researching fine china - for value and identification:-
Researching the identity and value of antique and vintage fine china
.
Please post comments below which you think might be helpful……