Thomas Dudson? Ornate Antique China Floral Trinket
by Roger
(Sweden)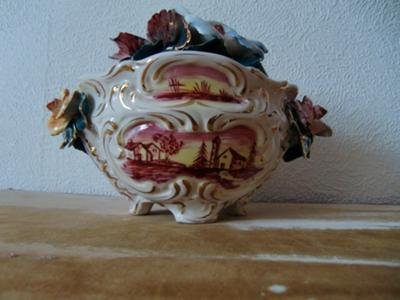 Thomas Dudson? Ornate Antique China Floral Trinket
Thomas Dudson? Ornate Antique China Floral Trinket:- Hello Peter! I wonder if this bowl could be a Dudson. Width is about 20-23 cm and hight about 15 cm. I bought it this last autumn in a shop run by the Salvation Army in Stockholm Sweden.


Best wishes
from Roger
============================================
Please contribute to this thread by writing in the comments section below – just scroll down...
HOW I MADE MONEY FROM BITS & BOBS OF OLD CHINA

.....more
Thomas Dudson? Ornate Antique China Floral Trinket
Hi Roger from Sweden
Many thanks for submitting, but you have confused me on so many levels, I don't know where to start.
Dudson wares were often unmarked in their early period 1800 - 1888 (James Dudson - official founding date is 1838). Then from 1888 they were marked with J Dudson England. Then from 1898 as Dudson Brothers, England. And then from 1945 Dudson, Hanley.
Today they have several marks and brands.
The second thing to say is where do you get 'Thomas Dudson' from? I don't know of a time period when they were named Thomas Dudson. I am sure there were members of the family called Thomas, but I don't know of any separate companies of that name. Perhaps you can enlighten.
The third thing is, to me they are known as the foresighted company whose decisions and strategy on 100 years
ago ensured their survival today - namely by specialising in stylish, hard-wearing hospitality ware (hotels and restaurants). So for you show me a trinket box with floral decoration and say "Thomas Dudson" has completely thrown me, I am afraid, so perhaps you could enlighten.... I am sure you must know something I don't, and that is what this website is all about - each of us sharing their knowledge.
In fact, I believe Dudsons are by far the oldest and longest surviving family owned ceramic makers in the UK. I have had the pleasure of meeting Mr. Ian Dudson (CBE DL) who is also, incidentally, the High Sheriff of Staffordshire and a fellow member of the Staffordshire regeneration initiative.
With the towns of Stoke-on-Trent nowadays looking like London after the blitz, so many are the factory closures and so sweeping the works of the bulldozers, it comes as a very pleasant surprise to know there are still some beautiful old ceramic companies which have survived the economic turmoil, the Far East under-cutters and the general downturn in demand for fine china. Dudsons is most certainly one of the few. Check out their website which is very informative.
Dudson's China Website
Best regards
Peter (admin)
p.s. The following page is a 'must see' if you are researching fine china - for value and identification:-
Researching the identity and value of antique and vintage fine china
.