Underglaze Beehive Mark - Royal Vienna Style Plate
by Jett Schencker
(Birmingham, Al)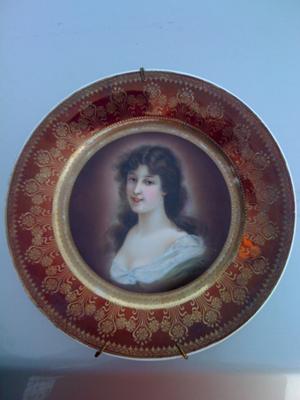 Underglaze Beehive Mark - Royal Vienna Style Plate
Underglaze Beehive Mark - Royal Vienna Style Plate:- I purchased this plate at an estate sale. I realize that it is an imitation piece but would love to know its maker and age and if possible relative value.


- thanks!
Jett
===========================================
Please contribute to this thread by writing in the comments section below – just scroll down...
HOW I MADE MONEY FROM BITS & BOBS OF OLD CHINA

.....more
Underglaze Beehive Mark - Royal Vienna Style Plate
Hi Jett
Not being an expert myself in this area I can only pass on what the expert guys said last time I had one of these Vienna style plates through my "Bring in the Experts" fee based appraisal service.
A client had three of these type of plates - obviously hand painted, and very good quality, and although they were only in the 'style' of Vienna which closed in 1864 (Vienna copies range from very mundane to fine).
What I need to tell you is these plates, despite the fact that they are apparently not as hot as they once were with Japanese collectors, were still worth many many thousands of dollars.
The expert says the price also depends on the subject matter depicted - and again only an expert can tell you what's hot and what's not.
It also takes an expert to define from photos whether you have anything valuable like those plates described above, but from the look of your photos, if you can definitely tell it is hand painting, you possibly have something worth a lot of money.
If it is not hand painted and is transfer print, less so. Having the set of three might also have had an effect on value.
Study your Vienna plate under a magnifying glass, look for tell-tale signs of hand painting or print.
If hand painted, I highly recommend you
use my service (not for my benefit .... for yours). It is the closest you will get online to the "Antiques Roadshow" experience. No impersonal uploads, no joining memberships, no grabbing money upfront. Just you talking to my experts via me for a small admin fee.
My vintage and antique china values page
How to tell if your wares are hand painted or transfer ware?
Transfer prints are taken from original artwork painted by a real person of great artistic talent. Hand-painting is the actual work of that person.
Look up close with a magnifying glass. Look at where the color goes from lighter to darker shades for example. The strokes of the brush will be doing the transition in a hand-painting
A transfer print will produce the transition with dots or other mechanical (non-human) method.
Look for obvious outlines where transfer printed outlines give the decorator a head start - these items are not as valuable as the artisan is just filling in the colour like in painting by numbers.
Transfers are mostly done over the top of the glaze and there is often a bumpy feeling when you touch the top of the work.
I would never try to guess a price here in this forum, because it would be wrong to do so. If more knowledgeable contributors can help, I would urge them please go ahead (check out the comments section below for replies).
Failing that, for valuation and identification advice (where the experts I send photos to can tell you the age, region, value and style in a heartbeat) use the link shown higher up this page.
Peter (admin)
p.s. The following page is a 'must see' if you are researching fine china - for value and identification:-
Researching the identity and value of antique and vintage fine china
.
Please post comments below which you think might be helpful……