Unidentified coat of arms pottery mark with two lions rampant
by Etta
(Bristol)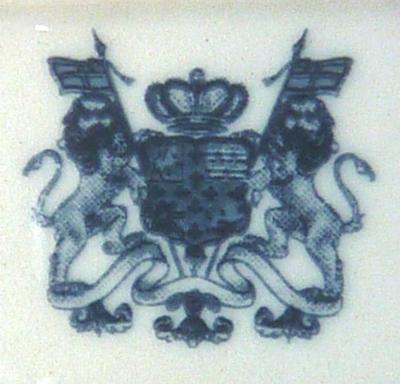 Unidentified coat of arms pottery mark with two lions rampant
Unidentified coat of arms pottery mark with two lions rampant:- I've been clearing out my mother's house and have found lots of 'bits and bobs' that she has picked up over the years. This dish was on her window sill filled with pot pourri. I cannot find this mark anywhere. The pattern is obviously something to do with the Empire?


Any ideas?
Etta
=========================================
Please contribute to this thread by writing in the comments section below – just scroll down...
HOW I MADE MONEY FROM BITS & BOBS OF OLD CHINA

.....more
Hi Etta
The answer to this one is not so obvious - although there are several older companies using a double lion mark, none of them look exactly like this mark. I need some time to think about this one....
I will publish anyway and with a bit of luck, one of our knowledgeable contributors will help out on this one – (check out the comments section below for replies).
I'll try to get back to this one later. If you can't wait and need to know soonest, use the expert referral service here:
Best regards
Peter (admin)
p.s. The following page is a 'must see' if you are researching fine china - for value and identification:-
Researching the identity and value of antique and vintage fine china
.
=============================
UPDATE:
=============================
We have found the answer to what this beautiful collection is. It is modern reproduction, sold from a beautiful top-end Italian website anticheriproduzioni.com (likely made in China to the specification of the Italian designers who love the old traditional English look).
Scroll down to the last few posts on this page for more information
=============================
end update