How Old is Clay Art?
Clay art is in our blood. Amazingly, stone age man was able to create ceramic wares. On this page is a fascinating look at how closely human beings have been associated with clay art throughout our evolution - from pre-history to modern times. You will be amazed. I know I was.
Take a second look at the ample lady in the picture below. You are looking at an amazing Phenomenon.
This could well be the oldest piece of ceramic art sculpture in the world. She's called The Venus of Dolní Vestonice. She dates back to the Stone Age.
Compare this religious/spiritual artefact with the more expressive/fun art sculpting that ordinary people (not just artists) produce nowadays.


Yes, humans had the technology to produce ceramics in the Stone Age!
The Venus pictured below right was made somewhere between 27,000 to 31,000 years ago - technically known as the Gravettian period of the upper Palaeolithic - or Late Stone Age.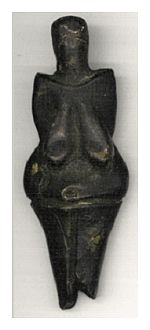 It was found in modern times somewhere in deepest Europe (Czech Republic). The age of this piece of Venus figure clay art is mind-blowing.
To put it into perspective, modern man (i.e. Homo Sapiens) is thought to have evolved around only 130,000 years ago.
Religion? Expression? Fun? War?
Clearly, getting our hands dirty with clay is important to us and evolved right along with our development of more sophisticated tools (which started around 50,000 years ago).
You know that feeling you get when you look deep into a log fire?
It's a kind of settled, universal belonging feeling. There is a similar connection when producing a piece of clay art.
It is primeval.
Are you ready for The War Of Art?

Today this urge is alive and well.
Clay sculptors
come in many different disciplines, and you would be amazed at the
diversity of artists who work in clay
.
There is the art pottery of the studio potters whose feathers are being ruffled by the clay contemporary art potters (winning the Turner Prize!).
Then there is the whole thing about clay and art combining together - does it then become fine art or is it still just a craft etc etc.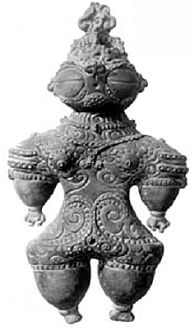 Today we tend to value ceramic items highly - whether they are many thousands of years old, many hundred or hot off the bone china production line (see porcelain china).



A 'Ming vase' is synonymous with high value. However, a Ming vase is a mere newcomer in the ceramic antique stakes.
In Japan, the Jomon people were making richly decorated figurines over 10,000 years ago.
The term "Jomon" means "cord-marked" in Japanese.
So the 'Jomon' name refers to decorations made on figurines and other clay pieces using specially made tools from cord and string.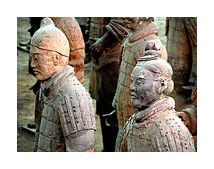 Terracotta Warriors of the Qin Dynasty date from 210 BC. - a mere 2227 years ago.
Wow, how impressive are these life-size works of art? For me, the artistry, scale and ambition of these works defy belief.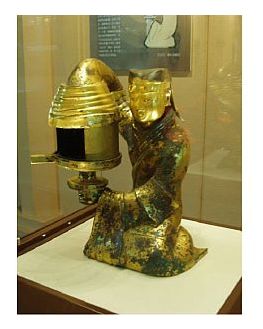 Porcelain is a word to conjour with. It denotes quality and excellence. Chinese porcelain dates from the late Eastern Han period (100 to 200 AD).
Porcelain was developed over 2000 years and is still going strong!
A beautiful medium. It's nice to think that my artwork may still be around in 2000 years time - that's if no one gets clumsy with it!
Opposite is an incense burner dating from over 2000 years ago (Han period).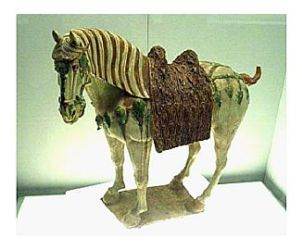 I absolutely love these Sancai horses dating from the Tang Dinasty (618 – 907 AD).
Sometimes Tang horses are referred to as 'egg-and-spinach' ware because of the use of green, amber and off-white/cream.
Stunningly beautiful creations in clay.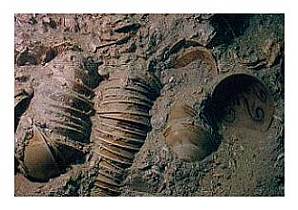 The blue & White wares made famous in the West in the 1800's by English firm Wedgwood were invented at around the same time as the Tang Horses.

Of the earliest blue & white, only three pieces of Tang blue and white porcelain remain in the whole world, and they were salvaged from an ancient shipwreck off the coast of Indonesia in 1999.
Can't get much rarer than that!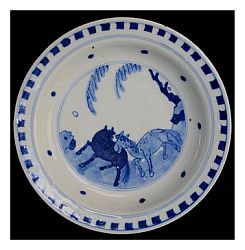 About 1000 years later, Tenkei blue-and-white ware was developed. Ironically, this ware became referred to as "old blue and white", even though it came from 17th century not the 7th like the Tang blue and white. The blue and white technique involves white porcelain being decorated with blue under the glaze. For more details on Tenkei ware go to the wikipedia article.
However, even these rare items are getting into the realm of Industrial art ceramics as they were made in a production type setting and for multiple resale.
My background is Industrial art ceramics, working with famous name companies such as Royal Doulton, Wedgwood and Royal Worcester. The products that result from my artwork can't be described as 'fine art', they are 'decorative art'. Decorative industrial art can, in the right circumstances, become very sought after, very collectible and very expensive.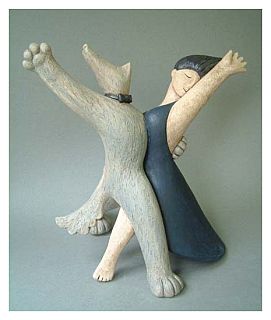 Sometimes the boundaries are blurred. So let's move forward to the modern day. What are contemporary artists doing with this age old technology?
British clay artist Paul Smith takes ancient myths and tales, some of which are as old or older than ceramics itself, and weaves them into wonderful and amusing pieces of fine art (see Clay Artists section).
In my opinion I think Paul's work really stands out. Elsewhere on this site I have written more about Smith and how he fits into the big picture.

return from
clay art
to
homepage