Figurines Sculpture & Fine China Makers
Looking for specific info? You can search throughout this site by using the above search box.
Who made your antique china? How are future antiques made?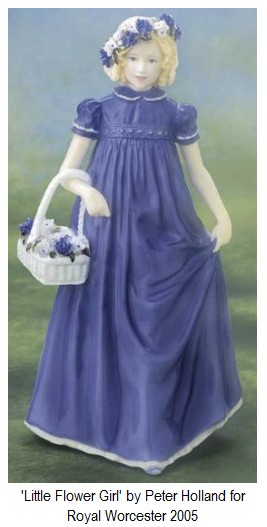 Figurines Sculpture is an insider's eye into the glossy world of fine china. Together we can explore why we are all touched by this timeless, fanciful and complex craft of ceramics.
My name is Peter Holland. I am a professional ceramic sculptor supplying artwork for Wedgwood, Royal Doulton, and Royal Worcester. I make stuff that will become antiques. Fact.
If we are careful with it, fine china sticks around. We humans don't. Who wouldn't feel a sense of heritage leaving their fingerprints all over pieces people will be touching in 100 years?
Don't we all get a curious buzz from handling fine china made in times past by people long gone, and wondering about those individuals? I know I do.
That's a neat circle. That's my website. Join me. It's fun.....
Don't let the name of this website fool you into thinking it's just about figurine sculpture. Maybe in the early days, yes.
It is now also about solving mysteries; identifying and valuing fine china and telling the story of the makers. Like a 'who-dun-it'.
Sue, a contributor to the forums couldn't have put it better...
"I love trying to find out the history of pieces of china... it brings out the researcher in me! But I'm annoyed that I'm so stumped with these lovely pieces."
By the way, we are still trying to solve Sue's mystery 'Helmet' pottery mark, so if you can help, find it on the search (top right).
As I say, this site started out in 1997 (before Google was around) as an online tutorial for budding clay sculptors, but this embryo of a website soon gave birth, because of you, the visitors (people like Sue), to other exciting and closely related areas of the rich fine china tradition.
So began a journey into researching & listing all the famous-name companies and household names, the people that made it happen, the long cultural history of porcelain wares and their mysterious pottery marks (which sometimes have to be interpreted as if they were hieroglyphics).
So we are all together in this lovely dance, the collectors, the enthusiasts, the clay modellers, and, of course, the inheritors of Gran's china.
Some fine china keeps its value very well. More of that below.
But first, here are some words people have used in their appreciation to me about this website over the years.
"Your site is utterly brilliant, thanks for having it"
"I am thrilled to have found your incredible site"
"....your website really really useful"
....more kind words here
These kind words give me the motivation to keep going and keep building the website as a public record and helping hand to all who need it - you can see these and many other testimonials on the figurines sculpture testimonials page (click on the link above). You can add your own words to me on that page, if you feel so inclined. Thanks
Now onto your treasure hunting OCD exploits! The same question kept rearing its head.....
"How much is my fine china inheritance worth?"


You insisted I tell you about the MONEY, that's when I had to bring in the experts. I had the task of organising the rabble-like experts (don't believe what you see on the Antiques Roadshow - they are all uncontrollable monsters in real life). Geniuses are often mad, aren't they? ;-)


However, using lion-taming chairs and whips I got them firmly under control and now I run the best value appraisal service online (if you want to know more about this, just click the 'treasure chest' logo on the top right column of any page on this site).


So this website is now about "FINE CHINA" in general (not just figurines sculpture) where I started out.
What a journey!
This website is a very good example of how life is a journey not a destination. Let's all enjoy the journey together.




If I were starting over, the site would have a different name to reflect what it's about.
The main point is, I am so pleased to play a part in the fascinating story of this long-standing cultural art of china manufacturing (it goes back 50,000 years).
Of course, now that the old once glorious traditional industry of 'white gold' is virtually no more (apart from a few brave-hearts like me and a scattering of Staffordshire colleagues), we are all the more nostalgic about it in the 21st century.
Having worked for years as a free-lance professional clay modeller for some of the top companies in the world), the idea is to immortalise this legendary industry - to look at the story behind the famous names, and, you know what?.... maybe it takes one to know one! LOL!
See more of my story in my About Page (find the link on the left hand vertical navigation bar).



Peter Holland
www.figurines-sculpture.com (Figurines sculpture & Fine China Making)
Listed below are some pages you will find on Figurines Sculpture with a brief explanation of the content of the page:
This is the 'About' page of the Peter Holland website 'Figurines Sculpture .com'. A useful resource for both collectors and developing sculptors
Collectible Figurines - Peter Holland sculptures - fine bone china antiques of the future
Pottery marks sometimes can seem like a frighteningly huge subject to tackle, but never fear, your online guide is here to help you through!
Advice on how antique appraisals fit into the big picture of selling your collectible china
Antique china and fine china tableware is a fascinating topic and if you need a quick but comprehensive background on a notable fine china maker, you will enjoy this section.
There is a secret to finding your fine china replacement online, and it is very simple if you know how.
A unique online guide to porcelain china with brief talking points for quick connoisseurs
Antique bone china - All the talking points needed for quick connoisseurs
How old is clay art? You will be amazed. How did Stone Age man develop the technology to make ceramic art? Sculpting with clay is in our blood.
Clay sculpting and progress towards modeling artistry. No longer such a mystery with these simple tips on clay sculpting…
How to sculpt faces in clay is one of the most frequently asked questions by sculpting scholars. Here is a sensible answer, for a change
All clay sculpture questions welcome. You can ask your own questions about any aspect of your ceramic sculpture
The Clay Sculpting Supplies Guide To Buying Online From Master-Sculptor Peter Holland
Privacy Policy
The Figurines Sculpture and Porcelain Collectibles Blog keeps you up-to-date with all additions and changes to the figurines-sculpture.com Web site. Subscribe here.
Peter Holland Newsletter Don't Get Left Behind!! Subscribe to Peter's Updates & Special Pages Previously Unseen - * Doulton, Worcester & Coalport Figurine Sculpts Stage-By-Stage in the Maki
Your contact and feedback to Peter at Figurines Sculpture.com is very welcome it helps to make to site more beneficial to visitors