Pottery Marks Explained
Whether its English pottery marks or German porcelain marks, Japanese vintage backstamps or Chinese seal marks, this superabundance of unknown branding logos sometimes can seem like a frighteningly huge subject to tackle. 
But never fear, your friendly online guide is here to help you through this maze of china marks! On this page there is a quick (OK, fairly quick) run-through of the basics of mark identification (it tells you how to look for clues to how these sometimes mad hieroglyphics work).
If you bookmark and follow this website, you can quickly get a 'feel' for the probabilities of the origin of your pottery marks.  Mark encyclopedias are very thick bamboozling expensive books showing countless thousands of marks, but the vast majority of these we are unlikely to ever see.
So most of the mileage here on this site is therefore about nailing those pottery marks which are hard to identify but are actually likely to be around in our homes (not many of us are likely to have a bit of Buen Retiro lying about are we?).

General Rules for Identifying China Marks
Ok, let's start thinking about this logically (Captain). It is obvious to those who care to read the clues below (↓) that (my dear Watson) the two huge sources of fine china making (and therefore most likely to be in our homes or at garage sales and thrift stores - i.e. the No. 1 suspects) are Germany and England.  German porcelain marks are perhaps the most difficult for Joe Public.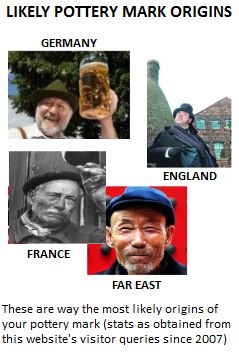 Germany vs England (The Tea Cup Matchup)

Germany and England were the two main European giants of commercial ceramic production and represent the bulk of the mystery pottery marks submitted to this site.
France, of course was a big player too, but we have many less queries about French china makers marks. See exactly why here....

Meanwhile, hundreds of hardy entrepreneurial businessmen in England and Germany were carving out hard won businesses - against very real competition. Business was tough and china making expensive, so only the strongest survived in those countries.
German porcelain marks seem less easy to identify than English on the whole, as at times, they were trying to sell into the huge English speaking markets, but without being recognized necessarily as being of German origin (due to ongoing antipathies).

The Clues Are Always There If You Know Where To Look
BUT! many of them are subtle, so you have to tune in......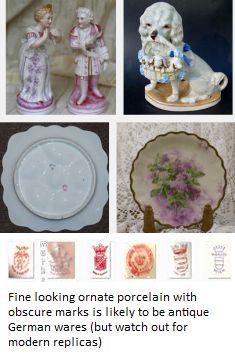 If you take into account the big picture explained above, one of the subtleties you may be tuning into is that an obscure mark on finer porcelains can therefore often indicate a German porcelain mark (most often seen are late 19th century items - the height of production). 
The post-war Japanese fine porcelains also sometimes used obscure looking Western marks too, so be aware of that (the difference is often in the way the wares looked, so study appearances carefully).  More on Japanese and Chinese wares here....

The average English firm was much later into fine porcelains than their German counterparts and the top band of better known English fine porcelain makers tend to have more easy to recognize markings anyway.
The English version of porcelain most commonly seen around is bone china (earlier English soft-paste porcelain is so rare as to be mostly in important collections rather than sitting on Nan's shelf).
Recognising old (early 1800's) Staffordshire wares
A fancy old solid looking plate, or pitcher, or cup (not transluscent or thin) with no pottery marks and a crackled old glaze over blue & white or Imari (chinoiserie) patterns is likely to be Staffordshire early to mid 1800's (unless it's a modern Chinese fake, in which case it will more than likely have a crusty old-looking made-up mark).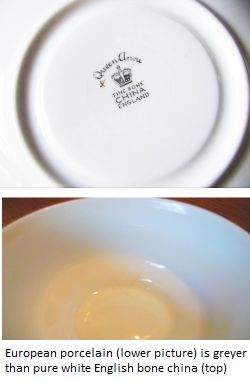 Whereas the words 'bone china' indicates modern English - likely early to mid 20th century.
The word Royal often suggest 20th century too, although the first warrant was as far back as the 1850's.
So how can I tell bone china from porcelain?

Bone china is very distinguishable from European porcelain being whiter (less grey in the body) and having a quite characteristic method of glazing and decoration.
If the stamp says the actual words 'bone china', the item is likely 20th century.
The ox bone in the bone china makes it actually harder and more translucent as well as whiter than European porcelain, but because it is fired at a slightly lower temperature, actually the two bodies are probably just as strong as one another.  I don't suggest you test this theory.....
"The very pottery marks on the bottom of a piece of rare crockery are able to throw me into a gibbering ecstasy" - Mark Twain

Continue reading below.... (↓)
More Clues (and rules of thumb)

Apart from the big picture things mentioned above, here are some more detailed clues.

Example: if you are looking at pottery marks in the US, 1890 is one of the key dates to remember. All china and porcelain marks had to show a country of origin on import goods after that date due to a new act.

A 'made in England' backstamp, therefore would be a very good indication of 20th Century wares for all you china sleuths out there!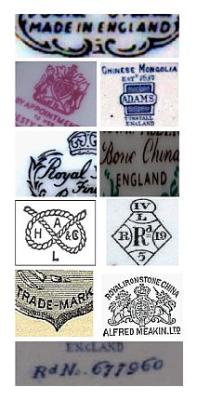 Just look to the picture on the right to accompany each of these little clues that just might help you impress your friends and date your lovely old china.
If you see the typically British Lion & Unicorn of Royalty printed on a backstamp, don't get too exited that you are Sherlock Holmes-like in your deductions because this marking stems from way back the C19th and onwards (1800's, 1900's and C20th etc). Not much of a clue there then because that just about covers the whole history of UK ceramic markings.
Onwards and upwards to better mini-clues......
We often see the pattern name included on the backstamp of an English china mark. Now surely they didn't mark wares with this amount of detail in the early days of Staffordshire did they?
Think again, Dr Watson, as the firms in the UK were doing this transfer-print marking as early as 1810 (often swirling and grandiose looking - these are called 'cartouche marks'). People made these style of fancy markings showing the pattern name for over a span of a hundred years.
Ouch, me needs more clues methinks....... Read on (↓)
The Word 'Royal' on a China Backstamp

Ah! I saw the word 'Royal' on a plate the other day and it made me think - surely there must be a time when this dishing out of warrants to posh dish makers was started. When did our nobility start ennobling our nicest crockery names? Well, after 1850 is the date you are looking for..... Yup, nothing says 'Royal' before 1850. Then only a few fab firms had the privilege of warrants yet some didn't bother to use it in their names (Wedgwood, Coalport, Paragon for example). Later in the 20th century, lot's of people started to use it when they shouldn't really have and we have an influx of Royal this's and that's. Use my A - Z listing of makers to check them out.
Nothing Could Be Finer Than a Nice Bit of Bone China
Now, I hear you ask "bone china"? Surely the term bone china must be as ancient as the hills? Not at all. Bone china was invented in 1799 (by Spode) but the term didn't actually come into general usage until the 20th century for some strange reason.
I would love to know why and how the term came into use, but I suspect it was some sort of cunning marketing ploy by someone like Colclough (the Mayor of Stoke whose mission it was to make fine porcelain tea sets for the masses).
If you know, let me know and write in...
The Staffordshire Knot

If you look to the picture on the above, you will see the twist of the rope into the shape of a Staffordshire knot. This stems from around 1850, as does the British diamond shaped kite registration mark. However, there was a fad for the Staffordshire knot mark in the later part of the 19th century. So see a Staffy knot and think late Victorian, generally speaking.
Trade Marks, Ltd and RN

The trade-marks act came in 1862 so if you see the words 'Trade Mark'  (see above photo) think late Victorian.
Similarly, the word 'Limited', or 'Ltd' was not used until the 1860's or thereafter.
....Whereas, the letter 'R N' (which stand for 'Registered Number' - see above photo) was later and didn't start until the 1880's.
You see, so knowing your pottery marks is all about putting feelers out to pick up the subtle clues.


But What About Value?
Now, we had to separate out the 'valuation' aspects from the identification forums because they started to get messy and go off topic. Identification is one thing, valuations are quite another. Appraisals need an expert impartial eye with no question of a vested interest creeping in.
So for valuation requests (and that covers a lot of people) we had to invent a quicker (paid for) service - the best online (I would say that because I run it - but it's true).
But Is My Stuff Worth Valuing?
For those not sure whether their items are worth the appraisal fee, I wrote a couple of different pages suggesting how you might do a bit of research on the value yourself first. You might have some fun with my free 'ready-reckoner price calculator'. I designed it in order to give you an idea of where your item might fit into a price range.
I also wrote a page giving a run-down of how you might use ebay and other resources to gauge the value of your stuff.
Also, at some point, you may want to go and have a quick look at this page:- Discovering the Value of Antiques which mentions good places both online and offline I often use to research items.
Valuation Self-Help! (help's at hand)

In reality, there are two jobs to do if you seriously need to put a value to your china set, both of which this website will help you with:
The first is to identify the specific pottery mark and once that is done, the second job is to get an idea of the value.
If you are having trouble identifying a specific makers mark, search the forums - see below (↓).
Use my China Manufacturers A to Z guide here on this site should give you the key information you need about most notable makers.  If not in this guide, there will probably be a mention of them in the forum posts  - see how to search the discussions below (↓).

Our User Generated Mystery Mark Forums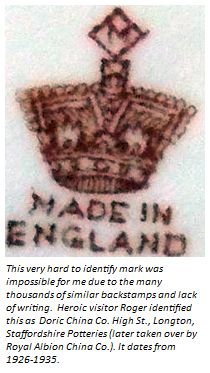 The forum discussions are where all the 'grunt' work on this site is done.
People submit photos of pottery marks and we all pitch in trying to help identify it.
We have countless examples of where, through sheer people power (not an expert in sight - as they tend to demand payment), we post a query not hitherto answered by Google-Fu.  Then, it turns out other people have the same mark, perhaps with variations, on different items.
We build up a picture, then finally get enough clues to solve the mystery, or a clever person comes along who knows the answer and takes the trouble to share (they find the page via the search engines who list the page because it has good meaty content due to the build up of posts). 
Want to go to the pottery mark discussion forums?....
This special search box searches all the posts in a jiffy.....

Looking for info on a specific mark or maker? You can search throughout this site by using the above search box.
OR
1.  GO HERE... If you want to post your own query.
3.  GO HERE... If you want to browse the as yet unsolved mystery pottery marks (there are some real mysteries we need help with).

4.  GO TO THE BOTTOM OF THIS PAGE FOR A TASTER OF THE ARCHIVED POSTS (if you want to browse the archived list of queries and comments on the pottery marks forum rather than using the search box).  The rest of the archive is here.....

Return from 'Pottery Marks' to the Homepage

Below are the SOLVED mystery pottery marks
Below are listed all the SOLVED pottery mark queries click here for all the UNSOLVED mysteries (please help if you can!) You can also add your own query or contribution to this website.


German Style Eagle with Winged Crown - Figurine
German Style Eagle with Winged Crown. hi! i have 2 figurines with this mark and i don't know what it is. Thanks for all help. =============================== …
Parrott and Company
Scroll down to the mark photo and the rest of the submission and reply. Click on the comments links to read or make a comment.....
Pottery marks help needed - 'p' inside pot on platter
Pottery marks help needed - 'p' inside pot on platter - ware pic
Pottery Mark Query- W LOWE L
Bee mark on old charger Pottery Mark Query- W LOWE L (with LILY pattern) Mr. Holland, thanks for replying. Here is the photo of my earthenware plate's …
pottery mark query - old plate with rectangle backstamp with strange letters
pottery mark query - old plate with rectangle backstamp with strange letters
Red Dragon Vase - Pottery Mark Backstamp with EL UNICO
Red Dragon Pottery Mark Backstamp with letters EL UNICO - ware pic:- Wendy Dworken
Porcelain Pottery Mark S Under Crown
Porcelain Query - Crown over S - naive figurines photo:- Here is the picture of the figurines themselves. Thanks, Kim. (rest of query below...) …
Pottery Mark Query - Incised B, incised symbol, blue W (?)
This is picture #2 to go with my first picture of my teapot
Pottery Mark Question - (R) M P
Hi Peter, This would be the third form on "pottery Mark Query (R) M P. I could not figure out how to edit or update original request. I mentioned …
Elephant Bas Relief - Ancient Reticulated Scroll Detail Vase - Mystery Origin
Elephant Bas Relief - Ancient Reticulated Scroll Detail Vase - Mystery Origin
Pottery Marks Query from non-member
Raised mark looks like all green vase or lighthouse or tower or a flower and stem:- This item was purchased at an estate auction in Northern Kentucky …
Dresden used on Globe Pottery Marks
just picked up a Gravy Boat with blue'ish roses printed (dots) on a very crazed porcelian in San Diego swap meet. Can not find this marking on the net …
Hummel Goebel Pottery Marks
Hummel Goebel Pottery Mark Query: The Figurine of a rare Hummel?: The markings are TM 1 Hummel, Double Crown with the impression of number 35 along with …
Oriental Pottery Mark Query
i searched for weeks for anything resembling this, and the closest thing i found was the Satsuma mark, only it is a red mark.the vases are octagonal, 5.5 …
Is 'JM' Johann Maresch OR John Meir Pottery Mark?
Is 'JM' Johann Maresch OR John Meir Pottery Mark? Front Picture:- Hello again! I just want to send you a front picture of my plate marked with J.M., …
Pottery Mark Mystery - Villeroy & Boch
Is this a Villeroy and Boch? Pottery Mark Query:- See main submission and reply below.
Is This a Ludwigsburg Crown with 'L' Pottery Mark Imitator Covered Dish and Saucer?
Is This a Ludwigsburg Crown with 'L' Pottery Mark Imitator Covered Dish and Saucer?
Pottery Mark - C inside a circle
Pottery Mark Update - C inside a circle: I read the question concerning the pottery mark, "C" inside a circle. Just recently I learned Lefton made a series …
W L Pottery Mark is Modern Wong Lee not antique
Hi I bought this vase in a shop where everything was very very old. It has the blue W.L...the metal looks very old..What is this worth do you think? …
Lord Nelson - Date of Pottery Mark
LORD NELSON POTTERY - DATE OF MARK? QUERY:- CAN YOU TELL ME WHEN THIS WAS MADE I FOUND IT CLEARING MY MOTHERS LOFT.AND IF ANY VALUE Reply from Peter …
Crown above 'S' Pottery Mark Query
I found a porcelain figurine years ago...a farmer pulling a cow..the bottom only had a Crown with a S under and a "Foreign" mark...it was with some B …
Teacup Mark Query - RN 48192 Between Rectangular Lines R & Son on "Ivy" Pattern Trio Tea Set
Teacup Mark Query - RN 48192 Between Rectangular Lines R & Son on "Ivy" Pattern Trio Tea Set:- I bought a teacup set while I was visiting London at the …
Crown above V above W Germany on cute lady in shorts figurine
Crown above V above W Germany on cute lady in shorts figurine:- Could also be described as "W crown 1764". My grandmother had this figurine and …
Oriental style vases or pots with hand painted and enameled decoration of a lady
Oriental style vases or pots with hand painted and enameled decoration of a lady:- Hello, My name is Crystal and these have been in my collection, I collect …
Pottery Mark Query - C or half circle over V over FI
Pottery Mark Query - C or half circle over V. co over FI