Collectible Figurines Gallery
Welcome to Peter Holland's Collectible Figurines Store. Here you will find a presentation of my favourite figurines. There are some of my own past and present (Royal Doulton, Royal Worcester, Coalport etc) - some of which are now retired, but if you are a collector of mine and want to build your collection, you can click on their pictures, and go to a special page of information where I tell you how you can get hold of them still by using a special type of hot search method.
Of course I talk about my latest creations too! All of them still English fine bone china hand made in Staffordshire.
Remember, I work only with the best artisans acquired from the now defunct and closed factories of Royal Doulton, Royal Worcester and Coalport - giving my work the edge of collectability.


A Quality Edge
Always look for the edge of quality over the also-rans from Taiwan, Indonesia and Malaysia (which is where the big brands now source their 'English' bone china). I will have nothing to do with the deceit where some companies pretend they are presenting you with English bone china when it is not from England.

I have nothing against sourcing from those countries as such - you just need to be honest about it and label your wares clearly!

Go to this special section to find out about John Bromley and I are up to with our latest collectible figurine designs from Worcester and Staffordshire.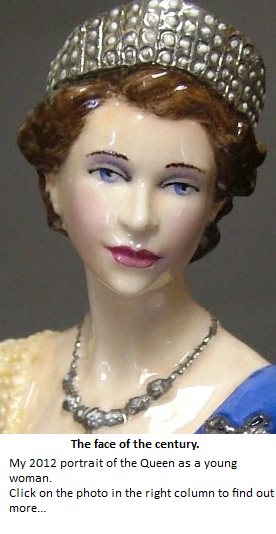 I also include below on this page a link to other collectible figurines by my favourite makers - people like Lladro and Armani Florence (see the link below which says "Other Figs").
This link takes you through a fascinating mix of my favourite ranges of the world's most collected figurines in a special live online auction gallery.
Enjoy these three exciting sections all about the world of high class figurines - the ones true home makers really care about...
I am pleased to say my Queen Elizabeth figure has been well accepted. Here is one collector talking:- "She gave me shivers when, as I turned her all around, I saw the very close resemblance to the Queen, in her features, eyes, bone structure, and complexion, that distinctive tilt of her head, and her lovely hair, as she was at that young age".
Have a closer look for yourself.... click here



| | | |
| --- | --- | --- |
| | | |
| Brand new collectible figurines by John Bromley and myself for the historic launch of The Figurine Collective. The first ever company to be selected to use the new backstamp of Staffordshire (see below). | A live auction gallery of the world's most collected figurine ranges - Bone China, Angels, Lladro, Precious Moments, Fairies, Hummel, Disney, Beatrix Potter, Capodimonte, Armani, Beswick. | Here is historical selection of my Compton & Woodhouse work (Worcester, Coalport Doulton). These are now mostly sold out and . Click the link for a live auctions. |
...About Our New Figs
I am very excited to say that I am working as a founder member of a new group called 'The Figurine Collective' together with one of the most popular of all collectable sculptors of all time, John Bromley.
The Figurine Collective Ltd is the very first company to use the new official historic pottery mark backstamp of Staffordshire.



This will become like a first edition of a hardback book - rare and valuable. The second company to use this logo will be - another exciting younger company from Stoke-on-Trent.
The new "Staffordshire - World Capital of Ceramics" logo promotes Stoke-on-Trent, Staffordshire, England as the center of the ceramics activity in the world.
"FIND WHAT A MUCH SOUGHT AFTER LOW NUMBER FIGURE CAN DO FOR YOU!"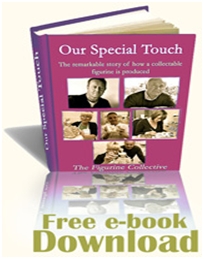 Read about how we are bringing together the very best of English design, sculpting and superb craftsmanship, in order to produce the finest possible exclusive works of art.



You will be fascinated by the story of how an English bone china collectable figurine is made - 'Our Special Touch', the complete story – from design through to final firing (a fascinating free e-book to keep on your computer and browse as and when).





The Antiques of the Future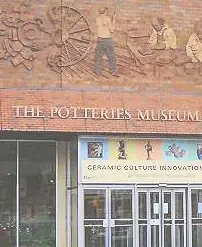 As the ultimate recognition of what we are doing, we are very pleased to report that the world famous museum in Stoke-on-Trent; The Potteries Museum and Art Gallery – has agreed to accept our very first figurine as part of its permanent ceramics collection.
This rare accolade will no doubt, further add to the collectability of our figurines and help to make them the
antiques of the future.
The Potteries Museum, Bethesda Street, Hanley, Stoke-on-Trent ST1 3DW
, Tel UK (0)1782 232323
---
The company mission of the Figurine Collective is simple - to produce the finest examples of handmade English ceramic bone china collectible figurines (THAT ARE ACTUALLY MADE IN ENGLAND!).
---



Here is an archive gallery of some of my past collectible figurines. Incidentally these are mostly sold out and not available new, so if you want to track any of my work down, I have a clever solution for you ....more

.
Photos © Compton & Woodhouse

Charlotte - Royal Worcester Figurine of the Year. Sculpted by Peter Holland and based on his eldest daughter, Charlotte.

Photos © Compton & Woodhouse

Louisa Figurine - Coalport's 'The Royal Garden Party'. An all time best seller using a new 'decal-on-lace' method.

Photos © Compton & Woodhouse

Rosita - a bone china figurine produced by Royal Doulton. One of the most popular Doulton collectible figurines of recent times.
Photos © Compton & Woodhouse

'A Dream Come True' - A Coalport piece designed by Royal Wedding dress designer Elizabeth Emanuel, sculpted by Peter Holland.

Photos © Compton & Woodhouse

'Frances' - A Coalport Figurine of the Year designed by Royal Wedding dress designer Elizabeth Emanuel, sculpted by Peter Holland.

Photos © Compton & Woodhouse

Catherine - Royal Worcester Special 250 years Anniversary piece, designed by Compton & Woodhouse, sculpted by Peter Holland.
Photos © Compton & Woodhouse

Compton & Woodhouse's Royal Worcester Fantasy Collection - the intriguing 'Snow Queen' captured in bone china by Peter Holland.

Photos © Compton & Woodhouse

From the 'Celtic Princess' collection of Compton & Woodhouse made by Royal Worcester, Princess Tara quickly became a Peter Holland classic.

Photos © Compton & Woodhouse

Titania Queen of the Fairies is a perfect partnership between The design skills of Compton & Woodhouse, the making of English Royal Worcester..
Photos © Peter Holland

Anya was made by Peter Holland especially for Celia Dolls as a favour and his lifelike style helped them launch in the USA. Peter Holland porcelain dolls are very rare indeed.

Photos © Compton & Woodhouse

This mother & child portrait entitled "Sweet Child of Mine" shows well the bond between the two. Design: Compton & Woodhouse. Make: Royal Worcester.

Photos © Compton & Woodhouse

This charming caricature figurine, popular with all the makers at Royal Worcester, Compton & Woodhouse donated a % of profits to Great Ormond St hospital. .
Do you have a question about my figurines past or present?

Go to this page
Here is a rundown of what else you will find on these 'Collectible Figurines' Pages:-
I give my take on Coalport Figurines - Coalport - The most magnificent of the early English forerunner factories.
Royal Worcester Figurines - Worcester - The oldest and most prestigious of the early English pioneering porcelain factories.
Royal Doulton Figurines - Doulton - Had a surge of power and influence at the turn of the 20th century.
A Profile of the Traditional Staffordshire China Pot Bank - the English pot bank - one of the most traditional early English types of factory.
The Most Popular Figurine Collections - Figurine Art - the most collected of the decorative arts.
Caring For Figurines look after your art - how to clean and display your collectible figurines.
WHY do we collect? - Figurines are a favourite of keen collectors. I take a look at exactly why.
return from
Collectible Figurines Gallery
to
figurines-sculpture homepage