Antique Russian Lomonosov Tea set
by Ghulam Nabi
(Peshawar, Pakistan)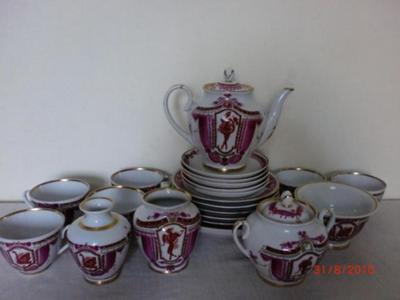 Antique Russian Lomonosov Tea set
Dear Peter, I highly appreciate your hard work and your intentions to help others. After seeing your hard work I was motivated to start collecting art porcelain. I am a retired banker from Pakistan and need your help in selling an antique tea set with the following description.


This is a unique USSR made antique tea set made from high quality porcelain consisting of 24 pieces i.e.,
6 cups, 6 medium plates, 1 large plate , 6 saucers , 1 tea pot, 1 milk pot, 1 sugar pot, 1 bowl, 1 flower pot. One cup has a slight scratch.
This set is made in USSR by LOMONOSOV, making imperial and highest quality porcelain.
It is extremely thin in texture and contain golden work of decorative art of a dancing girl .It is a rare set worth collectible for antique lovers.May be 70 years old.
I had acquired it from Kabul,Afghanistan 24 years ago. The set is in excellent condition
The pictures are attached.
Waiting for further advice.
Regards
Ghulam Nabi
===========================================
Please contribute to this thread by writing in the comments section below – just scroll down...
HOW I MADE MONEY FROM BITS & BOBS OF OLD CHINA

.....more
Hi Ghulam
We have other threads already running on Lomonozov. I have written at least one quite lengthy article. Please go to the search box at the top right of the page and put in the keyword "Lomonozov".
These photos are a very nice addition, as is your exotic story.
Peter (admin)
p.s. The following page is a 'must see' if you are researching fine china - for value and identification:-
Researching the identity and value of antique and vintage fine china
.