English Bone China - Antique China and Fine China Collectibles Query
by Anna
(Ireland)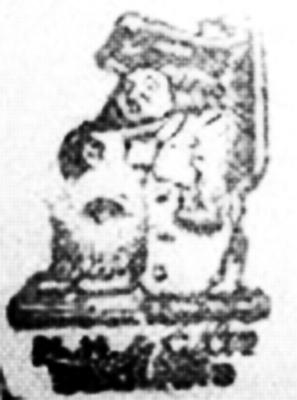 English Bone China - Antique China and Fine China Collectibles Query: Hales Hancock & Godwin (H.H.& G. LTD) Pottery Mark
English Bone China? - Antique China and Fine China Collectibles Query: Hi, I was on your site to find out what the marks mean on a china set I have, but had no luck. I was wondering if you can help with any information on my set. It states: English Bone China, H H & G Ltd, England and has a picture of a guy on a throne reading.


Any help would be greatly appreciated. Thanks, Peter
Anna
Ireland
Reply from Peter (admin) below - just scroll down
HOW I MADE MONEY FROM BITS & BOBS OF OLD CHINA

.....more
Reply by Peter (admin)
To: English Bone China? Antique China and Fine China Collectibles Query
Dear Anna
Greetings to you in Ireland. Thanks for your query. Interesting to know how your set got across the sea to the Emerald Isle because the set in question was sold in the City of London by the retailers who commissioned its make - namely Hales Hancock & Godwin (Ltd (H.H.& G. LTD).
Hales Hancock & Godwin were not china manufacturers but distinguished china and glass retailers in the City of London operating from 1922 until 1960. They had various trading names throughout their history including:
Hales,

Hales Hancock & Co Ltd

Hales Bros
The makers they worked with most closely included Wood & Sons of Burslem, Staffordshire and famous (and now very collectible) makers Midwinter.
If your tableware set was made by Wood & Sons it would be very doubtful it was made in bone china. Woods specialised in various non-bone china ware like:
Royal Semi-Porcelain
Ironstone China
Wood's ware
Wood's Ivory ware
Wood's Bery Ware
Paris Ware
I have never seen a piece of Woods & Son 'bone china' - (remember though there were at least 30 other Stafforshire makers with the "Wood" or "Woods" pottery mark all unrelated to Wood & Son of New Wharf Potteries, Burslem, Stoke-on-Trent, Staffordshire.
I have seen Wood & Son(s) wares marked in auctions as 'bone china' in the
descriptions, when, actually, the wares were 'Ironstone' (a type of stoneware) and
NOT
bone china at all.
If your dinnerware set is, in fact bone china, the following rules apply:
1. It will be of a higher value than Ironstone or any other type of ware. The reason being it is much more expensive to produce due to the expensive ingredient of "bone" and also the much higher temperatures needed to fire.
2. Generally, the more expensive wares are to produce, the higher the secondary value.
3. Your tea set (if it really is marked as bone china) will be rarer because Hales would have sold a lot less quantity of these items than the less expensive ironstone or semi-porcelain.
4. If your tableware set is bone china, it would be interesting to find out who the maker was because it was not the obvious Woods & Son(s) option.
That's as far as my knowledge goes, Anna. If you can see any more information on the pottery marks, please send in more photos (use more than one submission form if necessary).
For a more definitive answer, you could always visit my page:
www.figurines-sculpture.com/id-pottery-mark.html
It's one I've written especially for visitors needing extra help with valuations and identification. Here you can contact a bona fide professional appraiser (one I've checked out myself) who can tell you if your mark is identifiable by experts without you having to pay any money upfront. This service is unique online and is designed to protect my site visitors from wasting their time and money online.
One final point. I love the pottery mark with the little man sitting on the throne, reading. Surely a reference to how people occupy their time on the loo!! It is one of the funniest and quirkiest of china markings I've seen!
Best regards
Peter (admin)
p.s. The following page is a 'must see' if you are researching fine china - for value and identification:-
Researching the identity and value of antique and vintage fine china
.