O. B. Pottery Mark on Ott and Brewer Belleek
by Becky
(North Ogden, Utah)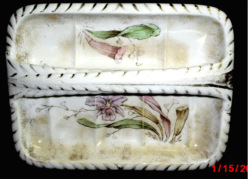 O. B. Pottery Mark on Ott and Brewer Beleek
O. B. Pottery Mark on Ott and Brewer Belleek:- I have been researching this find I believe it to be the early Ott and Brewer Beleek. I was wondering the value and the pattern.


Becky
=========================================
Please contribute to this thread by writing in the comments section below – just scroll down...
HOW I MADE MONEY FROM BITS & BOBS OF OLD CHINA

.....more
O. B. Pottery Mark on Ott and Brewer Beleek
Hi Becky
The short answer is I don't know. Research patterns with replacements.com - I tell you how on this page....
www.figurines-sculpture.com/china-patterns.html
Values, we don't cover in this section which is more about identifying what you have. Go here for some personally delivered expert advice on valuations:
The "Bring in the Experts" antique china and collectibles evaluation page
But often you can great information by 'saving a search' on eBay and monitoring the bid prices (be sure to get your search terms right though): go here for a page of tips and instructions:-
How to easily find prices and values on vintage and antique china online ..... more
Meantime so as to make this page useful for people finding it on Google or Bing searches, here are a selection of Ott & Brewer marks I know of:-

Ott & Brewer were first established in 1863 as Bloor, Ott & Brewer. Brewer had the forsight to employ great design and worked with sculptor Isaac Broome
who worked superbly in the fashionable parian ware of the time - a white marble looking ceramic body. Broome famously created the Baseball Vase and also won many awards for his work.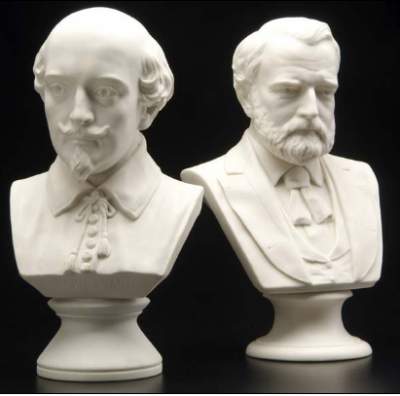 The Ott & Brewer historic parian busts by Broome, like the two above - guess who those two guys are! ;-) - tend to go for four figure sums. The amount varies according to the subject matter, but I have seen $1000 to £4000 at auction hammer prices
Ott and Brewer also figured out how the Irish made Belleek (the secret was a special clay body - you can read more about this if you use my in-house search engine at the top right of this page - keyword = "belleek") and made some of the most outstanding American porcelain ever made. I saw that a small O & B beleek vase went for $2350 in 2004 in a sale at Rago Auctions, Lambertville, NJ
So I am pleased to have had this submission if only to have put this great maker on show a little.
Please post if you have any Ott & brewer to tell us about. I like this maker very muchly.
Best regards
Peter (admin)
p.s. The following page is a 'must see' if you are researching fine china - for value and identification:-
Researching the identity and value of antique and vintage fine china
.
Please post comments below which you think might be helpful……