Porcelain Mark Query - Crown over S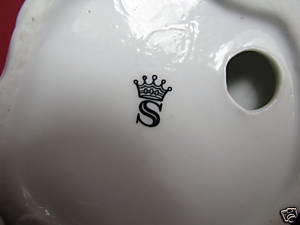 Porcelain Mark Query - Crown over S
Porcelain Mark Query - Crown over S:- Hello, I have a pair of blue, white and gold porcelain figurines standing about 5 inches tall. She is carrying a basket and he is feeding birds. They appear to be matched and both have the Crown over S in black on the underside.


Can you tell me their origin and vintage.
Much appreciated,
Kim.
Reply from Peter (admin) below - just scroll down
"Your guides are a blessing to us" Cindy Johnson
Reply by Peter (admin)
To:- Porcelain Mark Query - Crown over S
Dear Kim
Thanks for taking the time and trouble to upload the very clear photos and become part of this friendly online community.
Now, about your naive figurines and S underneath crown query.
I have had a series of these exact marks sent to me lately and the short answer is I am unable to positively identify this particular mark, because it is not one of the known marks - it appears to be a modern mark designed in homage to the older makers (see the three well cataloged marks I uploaded above).
Or perhaps, it's just a plain and simple sneaky and dubious marketing technique from Far East Mass producers?
There are three German makers who have used variations of a crown over S mark over the years.
However, this newer-looking S mark is not exactly like any of these
older marks from established and more collectable firms.
My conclusion is the mark is either a more modern variation of one of these German factories (in which case I don't quite understand why they would be doing such poor quality rip-offs and bunnykins type rip-offs), or a Far East maker who is trying to pass off their wares as having an association with one of these German makers.
The clue is in the range of products we have now evidenced from various visitors. This particular clean and modern looking stamp has a range of goods which look as of they are trying to pass off as other older ranges.
For me this shows either a lack of marketing 'focus' and/or a tad of desperation. For me it is either modern Chinese or 1950's Japanese, or less likely, a more modern Eastern European maker.
In any case, I don't think the wares would have a high value, unless they were by one of the older more reputable firms mentioned on the above summary page (which I don't think they are - but I could be wrong...)
Hope this rather long answer helps!
Best regards,
Peter (admin)
p.s. The following page is a 'must see' if you are researching fine china - for value and identification:-
Researching the identity and value of antique and vintage fine china
.
Please post comments below which you think might be helpful……