Pottery Mark Query J with wheat and circle gold
by Steven
(New York City)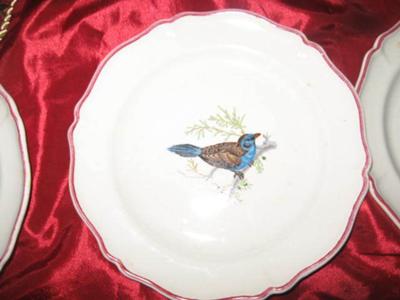 Pottery Mark Query J with wheat and circle gold
Pottery Mark Query J with wheat and circle gold:- I have several small saucer plates with hand painted pictures of birds, I am trying to identify the maker's mark. It is a capital J on a shield, surrounded by wheat and the surrounded by a circle, all done in gold.


Can anyone help?
Steven
=================================
Please contribute to this thread by writing in the comments section below – just scroll down...
HOW I MADE MONEY FROM BITS & BOBS OF OLD CHINA

.....more
The forum Help Elf says:-
===============================
UPDATE
===============================
After a long discussion we finally realised someone had already posted the answer to this J wreath Pottery mark query on another thread here :-
Limoges Castel
. I have not been able to verify, but the poster was pretty confident of the mark identification. Thanks to Janet for finding it and posting below.
===============================
END UPDATE
===============================
Sadly, this is a mark none of us recognise here in the Elf Office. It is therefore not a well known mark. It may or may not be a well documented maker though.
Let me explain. I looked up every possibility of this mark - all the circle marks, all the shield marks all the wreath marks, all the J marks. There was nothing at all remotely looking like this.
However, this means we elves can have a nice game of wild speculation - OUR FAVOURITE!
OK, here's what we got.
First, it might be the mark of a retailer or distributor which are far less likely to be recorded in the various encyclopaedias of makers marks in our office.
Another alternative is that the Far East makers of the mid to late 20th century are known for just making up pottery marks to resemble Western markings just for fun (or was it to do with the serious business of marketing?).
So the J might just stand for 'Japan'?
The Eastern block of the Soviet Union (e.g. the GDR - East Germany etc. did similar marketing labelling. They previously had a long and illustrious history of quality porcelain making - which was
unfortunately not necessarily helped by the poor production values of the communist block post 1917.
One of the East German makers who could have used such a J mark (but it is not recorded in the books as doing so) is Wilhelm Jager (actually Jäger) of Eisenburg Thuringia. This firm was founded in 1868 and traded up to 1979 as United Porcelainworks Eisenburg VEB (or V.E.B. Spezialkombinat Porzellan Eisenberg).
Another Thuringian maker who definitely used a 'J' pottery mark is Ilmenau (ilmenau) Porcelain (at least, to our eyes, it looks exactly like a 'J' but in reality it is the old fashioned cursive capital 'i') - sometimes used on its own (no shield, no wreath, no circle shown in my books) and sometimes within a double overlapping triangle shaped like a star mark and the year 1777, their date of founding). I have seen decal plates from this maker dating from c.1900.
Then there are one of two American manufactures who used a 'J' mark - for instance J. E. Jeffords of Philadelphia - but their mark was nothing like yours, and neither were their wares from what little I have seen of them.
One West German manufacturers whose name begins with a 'J' is Jaeger & Co of Marktredwitz, Bavaria (W Germany) 1898 - current. Mostly their marks are variations of 3 leaf clovers with crossed stems with J&C. They also have variations such as 'DIAMANT PORZELLAN' above a crown above 'KÖNIGIN LOUISE' used on restaurant ware - source
www.porcelainmarksandmore.com
So these are all the possibilities as far as I can see. Quite tricky when a mark is not registered in any of the normal reliable resources either online or offline.
My hunch would be to say, if these pieces looked of quite high quality on closer inspection (made of porcelain with good decoration values), that this was an uncatalogued variation of a ilmenau Porcelain and the J was not a J at all but an old fashioned cursive capital 'i'.
Hope this aids your research.
For general free advice on how to research your collection, Peter wrote this page:
value of antiques
.
H.E.