Royal Rudolstadt Blue 'R W' Initials Within a Diamond Shaped Shield Pottery Mark with Crown Above
by Teresa Hess
(Fort Worth TX)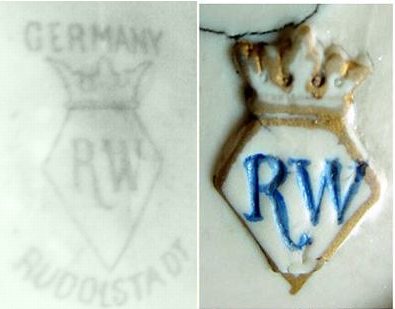 Royal(?) Rudolstadt Blue 'R W' Initials Within a Diamond Shaped Shield Pottery Mark with Crown Above
Royal(?) Rudolstadt Blue 'R W' Initials Within a Diamond Shaped Shield Pottery Mark with Crown Above:- Hi, Everyone, I found this sculpture of man/woman which is just beautiful but has suffered some damage. Even with that you just are drawn to to two of them sculpted into one flowing piece. On the bottom there is a shape like a diamond pointed down with with looks like three flowing tips on top that looks like a crown. Inside is the RW over the 6.


Out side of that about three inches away are
numbers 3405. If you could help me that would be so great!
Blessings,
Tee
Reply from Peter (admin) below - just scroll down
HOW I MADE MONEY FROM BITS & BOBS OF OLD CHINA

.....more
Reply by Peter (admin)
To:- 'Royal(?) Rudolstadt Blue 'R W' Initials Within a Diamond Shaped Shield Pottery Mark with Crown Above' query
Hi Tee
Welcome to this section of the site, and thank you so much for sharing your story of the RW pottery mark and figural group.
It's obvious you have a real feeling for fine sculpture and finely made figurines - with the way you are 'drawn' to flowing lines and the expression of a piece.
.....and what a piece it sounds like you have found!
I just wish you could have sent in some photos for us all to share.
However, I have uploaded some of my own pics of the RW diamond/lozenge mark so as to show viewers what we are referring to.
There is much confusion over this mark and the various factories and history of the region this maker comes from - not least from me (a non-expert about German porcelain manufacturers).
However, I will do my best to unravel it all - but if I have got some details wrong, I would love a more knowledgeable contributor to put us straight.
OK, the first misconception, according to the excellent site
pm&m
is that the name "Royal Rudolstadt" has nothing whatsoever with this backstamp. So your title is misleading to visitors.
However, sellers on ebay often make this 'mistake' also.
"Royal Rudolstadt" is a registered name of a Rudolstadt firm called Beyer and Bock, nothing to do with the above RW mark.
Your RW mark was registered in the German Trademark of Registry on May 2, 1896 by U. S. importers Lewis Straus & Sons in New York - who owned Macy's.
This mark was used as well as their L.S.& S. mark. Apart from Rudolstadt, they had subsidiary factories in Carlsbad, Bohemia and Limoges, France.
As I say, they did not own the Royal Rudolstadt brand name which was registered, much to their annoyance, by arch-rivals from Rudolstadt, Beyer and Bock.
Now to add to confusion, Straus & Son registered the name "Royal Schwarzburg" in 1924 (also the year they reformed under the name of Nathan Straus & Co).
This has
led to people associating the RW mark with that of the oldest and original Volkstedt Royal Schwarzburg-Rudolstadt Porcelain Factory of Thuringia founded C. 1762 called the "Oldest Volkstedt Porcelain Factory" (translated directly from the German name).
Confused? You ought to be, it is very confusing!
So let's rewind for a minute....
A Short History of Rudolstadt
The ancient city is Rudolstadt
Volkstedt is within the city to the south west.
The city of Rudolstadt is one of the ancient royal seats of Thuringia. The Prince who gave the Royal license to first produce porcelain in 1760 was known as the prince of Schwarzburg-Rudolstadt.
His stronghold, Heidecksburg Castle, is a Thuringian Baroque palace still standing in the Old City (it fell behind the Soviet block, but survived more or less in tact. Most houses in the Old City date from the l5th to l6th centuries).
So Rudolstadt is the city, and Volkstedt is an area located to the south west of the city where the original Royal Volkstedt factory (Aelteste Volkstedter Porzellanfabrik - "aelteste" meaning "oldest").
To this Volkstedt porcelain factory, the Prince Schwarzburg-Rudolstadt had granted the sole rights to produce porcelain the region. This monopoly ended in 1832.
Other firms jumped in after that date and those names include Straus & Son (est. 1882); Beyer & Bock (est. 1890); Schäfer & Vater (est. 1890); Richard Eckert & Co.(est. 1895); Ernest Bohne and Sons (est. 1901); Müller & Co (est. 1907), Ackermann & Fritze (est. 1908).
In 1937 the original Volkstedt/Rudolstadt factory merged with Porzellanfabrik Unterweißbach or Unterweissbach (aka Mann & Porzelius).
Three people jointly founded this original Volkstedt/Rudolstadt porcelain factory: Georg Heinrich Macheleid (1723-1801), the Prince of Schwarzburg-Rudolstadt Johann Friedrich von Schwarzburg-Rudolstadt (1721-1767) and August Friedrich North (1733-1798).
There's a great article on the history of this Thuringian European maker
www.porcelainsite.com
here:
Here's an extract from the site:
"The Volkstedt factory had an extraordinary collection of products: Coffee , chocolate and tea sets, candlesticks, vases, large decorated plates, wash-basins, steins, butter boxes, buttons, butts for guns and rapiers, medals and the famous figurines. The catalog from 1795 says that the factory produced 90 different figurine models. In 1832 the Volkstedt factory renounced from the privilege. That was the start for the foundation of other porcelain factories in the principality Schwarzburg Rudolstadt and of course in Volkstedt."
OK, remember this factory is different to the later Rudolstadt based company who registered your RW mark - that was Straus & Son - the very same guys that owned Macy's department store in New York.
For
China valuations click here
.
Hope this helps.
Best regards,
Peter (admin)
www.figurinecollect.com
(These pages show our new English made bone china figurine collection)
www.figurines-sculpture.com
(This is my bigger site covering all aspects of fine china making)
"Did you know?... the most popular pages on the site are..."

IDENTIFYING POTTERY MARKS ....more
CHINA PATTERN IDENTIFICATION ....more
HOW I BUILT THIS WEBSITE ....more