Schwarzburg-Rudolstadt? (or Royal Rudoltstadt?) Conch Shell Vase
by jeffrey rose
(punta gorda, fl.)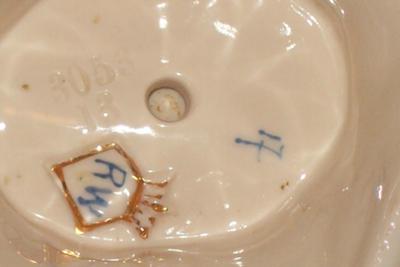 Schwarzburg-Rudolstadt? (or Royal Rudoltstadt?) Conch Shell Vase
Schwarzburg-Rudolstadt? (or Royal Rudoltstadt?) Conch Shell Vase:- i dont really know much about this piece ,it has an diamond shaped shield with gold painted crown on top of shield,with RW ,also has the numbers 3053 and under the number 3053 is 13 .my motherinlaw gave this piece to my wife 5 yrs ago . I have searched and never found anything like this piece , i am sure its a ooak , theres no crack's,break's absolute mint cond. any info would be greatly apprec.


thnx
Jeffrey
Please contribute to this thread by writing in the comments section below – just scroll down...
HOW I MADE MONEY FROM BITS & BOBS OF OLD CHINA

.....more
Peter (admin) says:-
Jeffrey
As you mention the maker in your title, I guess you must have found the
Rudolstadt article
already.
I originally posted a blooper on that page which has now been updated. Sorry about that - but I am not an expert, just a person trying to put together the best information I know.
However, this is a particularly complex area and mistakes both online and in the encyclopaedia guide books are not uncommon.
I think I have now sorted out the details, but if an expert want to contribute further, please feel free.
As I explain on the update, this mark has nothing to do with either the brand "Royal Rudoltstadt" or the factory known by the name Schwarzburg-Rudolstadt (these two are totally different companies - the former is that of Beyer & Bock and the latter is more commonly known as "Volkstedt").
Your RW diamond/lozenge mark is that of a company called Straus & Son who had several factories in Germany and were successful importers of porcelain to the
US in the late 19th century - to such an extent they ended up buying Macy's store in New York.
They had several other standard marks used for different marketing avenues and most of these are discussed elsewhere on this site (just use the top search box to locate the other articles and submissions about Straus & Sons).
The RW mark was registered in the German Trademark of Registry on May 2, 1896 by Straus & Sons and was used as well as their L.S.& S. mark. They had other factories in Carlsbad, Bohemia and Limogese. The "Royal Rudolstadt" brand was registered by arch-rivals Beyer and Bock and they had wanted this name. Straus instead used the name Royal Schwarzburg from 1924 (also the year they reformed under the name of Nathan Straus & Co).
So to make matters a bit more clear, Rudolstadt is a grand ancient city, one of the royal seats of Thuringia, and Volkstedt is an area located to the south west of the city where the original factory was located.
About your vase, all I can say I this shell vase is very typical of the rococo revival style of this prolific maker and retailer. You can see why they would have been so successful.
I particularly admire their figurines and always wonder why their items don't fetch more at auction. Perhaps its to do with the quantity available and, of course, the 19th century rococo revival styling is somewhat out of fashion in this stark minimal world we live in where fancy ornamentation is almost a swear word.
I am sure the tables will turn sometime soon.
For general free advice on how to research your collection, Peter wrote this page:
value of antiques
.
Peter (admin)