Unidentified Pottery Mark - helmet with six crossed arrows, ribbon scroll and beaker.
by Sue
(London)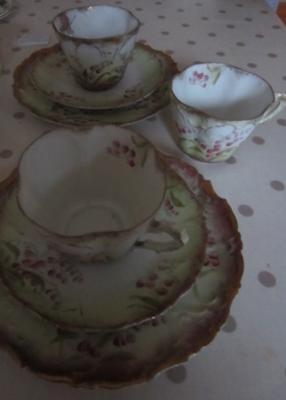 Unidentified Pottery Mark - helmet with six crossed arrows, ribbon scroll and beaker.
Unidentified Pottery Mark - helmet with six crossed arrows, ribbon scroll and beaker.:- Hi, A friend gave me a pair of trios she found at a bric a brac market in Greenwich. It's a lovely hand-painted set with a very pretty shape - the cup is shaped into quadrants and the saucer and plate have a patterned edge.


The china is quite fine - I hardly dare touch it!
Apparently it came from a house clearance somewhere in south east England, but further than that I know nothing about its history.
We were trying to work out who the makers were - there is a pottery mark on the bottom of the pieces with what looks like a pith helmet (or possibly an archer's helmet), six arrows crossed and pointing downwards (three on either side) with a ribbon or scroll at the meeting point, then there's a curved bar and at the bottom of the mark is what looks like a full beaker or cup.
Then, in red, are the numbers and letters: 42SV with 49 beneath.
I've searched the internet and Peter's brilliant website but the only hits I've had for crossed arrows are for Kalk and Arnart, but those show two crossed arrows rather than six.
I love trying to find out the history of pieces of china I'm given - brings out the researcher in me! But I'm annoyed that I'm so stumped with these lovely pieces.
If anyone can help identifying the mark or the pattern - I'd love to hear from you!
Cheers,
Sue
Please contribute to this thread by writing in the comments section below – just scroll down...
HOW I MADE MONEY FROM BITS & BOBS OF OLD CHINA

.....more
Unidentified Pottery Mark - helmet with six crossed arrows, ribbon scroll and beaker.
Paul J Has Found the Answer!!! see bottom of page
Peter (admin) says:-
Dear Sue
Well, well, well, I think you have to win an award for the most obscure and cryptic pottery mark we have ever had on
this site! (And we've had a few!)
There is no sign of this mark in any of my books or online, and I can't recall ever seeing it before. There are no words or initial at all the help our quest for identification, so this a tricky one indeed.
Let's look a the cups first. In terms of design, they could be English or European, so no clues there.
They are obviously a type of fine porcelain, but this could be somewhere to look for clues. Bone china (a type of porcelain with animal bone added) would very likely be English. Porcelain would be European.
How to tell the difference?
Bone china, on closer inspection is whiter than porcelain. Porcelain has the slightest grey or bluey hue to it. The purer the whiteness, the more likely it is to be bone china and therefore English.
Now, your theory about an association with archers. I Googled what English longbowmen wore and came up with this image from
listverse.com/medieval-soldiers
. Note the English red cross of St George tunics, denoting they are English Longbowmen as distinct from other nationalities. The helmets look the same type as on the pottery mark.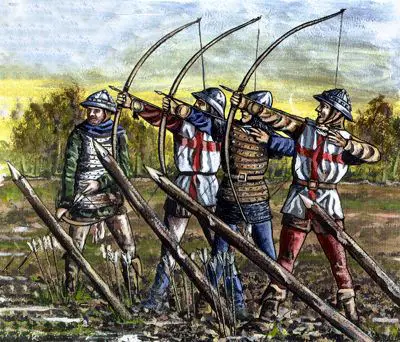 So I think we can conclude from this evidence the trios might be English rather than continental, which narrows it down slightly.
The only other thing I could think of to research was, to whom might the longbowmen symbol be significant to?
The answer to that is almost anybody as archers were very widespread across England and Wales. So the other avenue is to look at the 6 crossed arrows.
I found that the six crossed arrows were used in crests or coats of arms of the following families:- Bavent, Bowes, Dove, Keyne and Segrave. None of these were famous potters, so we have drawn a blank so far.
If anyone knows anything about this mark, please post below.
Best regards
Peter (admin)
For general free advice on how to research your collection, I wrote these pages:
My vintage and antique china values page
value of antiques
.