Pottery Mark Query - 'S' Beneath Crown on Bunnykins Type Figurine
by Carol
Pottery Mark Query - 'S' Beneath Crown on Bunnykins Type Figurine:- Hi, Peter, I recently bought 4 animal ornaments on ebay, 3 squirrel's and 1 rabbit, having looked on your site I was wondering if they were made by P Donath?


Not really bothered about the value but I would like to increase my collection of these delightful little creatures,
Attached are 2 pics as requested, hope the quality is good enough for you to see, thanks.
thanks
Carol
=========================================
Reply from Peter (admin) below - just scroll down
HOW I MADE MONEY FROM BITS & BOBS OF OLD CHINA

.....more
Reply by Peter (admin)
To:- Pottery Mark Query - 'S' Beneath Crown on Bunnykins Type Figurine: Donath?
Hi Carol
Thanks for your interesting query - Yet another slightly different of 'S' under Crown backstamp on a figurine! There has been a rash of these lately - and the thing is - none of them quite match the various makers shown in the books (Donath/Tuppack or Voight/Sitzendorf)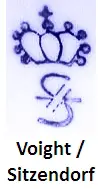 See my other entries on this subject here:-
Crown above S post
(beautifully sculpted figure of a boy pulling a cow - serious art this one)
Crown over S post
The original post from a person who didn't upload photos of the 'S' below crown pottery mark, unfortunately.
Your pottery mark 'S' under crown, could be one of these German figurine makers from the Silesia region, there again it could be a far east faker cashing in on the 'wooliness' of the marks from this region.
My view is the S/crown mark of the
boy pulling a cow
is definitely Germanic art - very high quality and impossible to reproduce by lesser artists. Your little animal caricature, I am not so sure where these were made - they could be either post war Japan or post Soviet rules East Germany (after 1945).
Best regards,
Peter (admin)
p.s. The following page is a 'must see' if you are researching fine china - for value and identification:-
Researching the identity and value of antique and vintage fine china
.
Please post comments below which you think might be helpful……